Gathering with family and friends to eat a great, often nostalgic dinner is part of the fun of the holidays. This season revolves around food and parties, from Thanksgiving turkey with traditional sides to holiday sweets and spiced drinks — all of which add to spending time in the kitchen.
While some are undoubtedly not, some areas are ideal for prepping large holiday meals. Although small rooms are pleasant, you can quickly run out of space, especially when trying to impress everyone with the perfect holiday supper. Here are ten suggestions for prepping a colossal holiday meal in a small kitchen.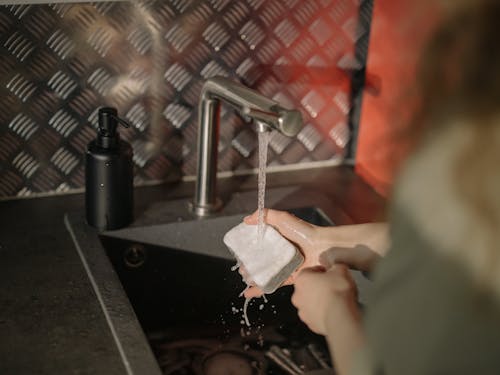 While you're cooking, clean.
A pile of dirty dishes is one of the largest space wasters in any kitchen. Clean your kitchen as you prep and cook, whether you have a small dishwasher or must hand-wash goods. So that you don't have to deal with a massive mess later that evening, do the dishes, wipe down the countertops, and store the spices straight away.
Use a dish rack to save space.
Even if you have a dishwasher, it might only be able to handle some of the bowls, pans, and whisks you'll need throughout the day. Of course, some goods may require hand washing only. A dish drying rack with two tiers saves room by raising your dishes and frees up counter space till you can put dried items away.
Set up temporary hooks.
Add a few Command bins and hooks to your kitchen to use vertical space, whether you need to store valuable goods within reach or simply free up counter space. These temporary organizational aids are ideal for storing utensils and measuring cups on the back of cupboards and pantry doors. If you want, you can spray-paint the hooks to complement your existing decor.
Reduce the number of existing items.
You may have goods in your drawers and cupboards that you don't use and are unaware of. Search your entire kitchen for duplicates or goods you no longer require. Donate or give away any extras, and then organize your room, so your prep things are easily accessible.
Take out the upper cabinet doors.
Replacing your kitchen cabinets may not be financially realistic, and it may even be impossible if you live in a rental. But there's nothing stopping you from taking off your cabinet doors and putting them and their hardware somewhere safe. This lets you see all of your dishes, mixing bowls, and serving pieces. This makes it easy for you and your guests to get to anything.
Rethink your spice storage options.
From cinnamon and cloves to sage and thyme, tiny spice vials are a nightmare to manage and find throughout any season, especially when you're looking for a single bay leaf for your homemade stuffing. Instead, transform spices into decor by arranging mason jars with lids fastened to the underside of your cupboards. It will not only save counter and cabinet space, but it will also look adorable.
Reorganize your counter space.
Consider expanding your countertops if you have the time and permission from your landlord if you are renting. More counter space might allow for bar seating and a larger prep area, both of which are lifesavers over the holidays.
Add a cutting area.
If you've already relegated your countertops to cooling baked goods and basting your turkey, consider buying a stovetop cutting board and using it to dice vegetables. Plan to chop everything before turning on the heat or transfer the board to a new work location after the burner is turned on.
Have a cooling rack that can be stacked.
When your holiday menu includes a lot of sweets — cookies, pies, and other delicacies — you'll need room to create them and cool them down. Purchase a multilayer cooling rack to elevate your baked products after they have been baked. You can even use a pinch to dry smaller items like spatulas and silverware.
Consider your options outside of the kitchen.
You don't have to do — or keep — everything inside your kitchen's narrow confines. Decorate your dining (or living) room with your favorite glasses, dishes, and service pieces. There's no reason to keep these gorgeous pieces hidden in cabinets when they may serve as interior design in another room.